In a rapidly changing world, some things will always stay the same. There is hardly any debate that the legendary 7 Series has been the perfect embodiment of luxury and performance over time, and now the Bavarian Auto Group has released its latest version in the Egyptian market; the BMW 7 Series 730 Li.
The conspicuous sedan's confident presence has always captivated the crowd wherever it goes, and the BMW 730 Li is no exception; it sends a message of seamless exclusivity that's accentuated through its distinct features and imposing demeanor on the road.
Relying on a powerful 2000cc Twin Turbo engine with an output of 265 HP and maximum torque between 1500 and 4500 rpm, the new BMW 730 Li makes use of its 8-speed transmission to deliver a staggering acceleration of 0-100 KM/H in 6.3 seconds.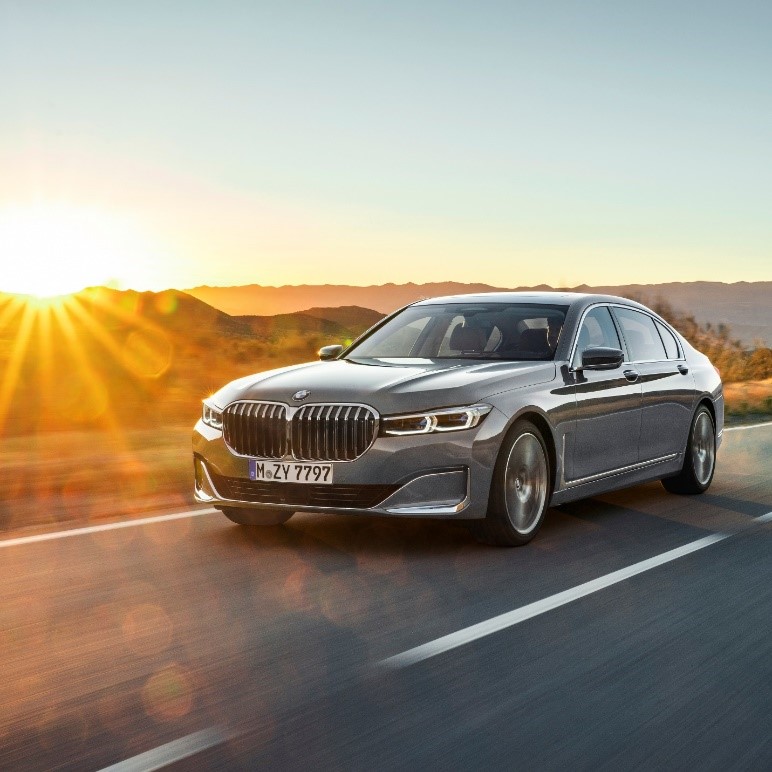 The exterior design of the new BMW 730 Li underwent several updates to bring out its slim silhouette and exquisite allure even more. The front-end of the car has witnessed significant enhancements, having an overall longer and more stylish design from the front hood bumper to the BMW Laser Light headlights, which give a range of up to 600 meters at speeds above 60km/h, including adaptive headlights and the BMW Selective Beam functionality. This flagship vehicle would not be complete without BMW's signature double kidney grille, adorning the front with its prominent appeal and active air stream that actively regulates the airstream by dynamically opening the grille slats' if the engine needs cooling or closing for increased aerodynamic flow on the road.
On the back-end, the BMW 730 Li has wider exhaust tips with a touch of Chrome on its standard models. The taillights are thinner than previous versions, and now occupy the width of the model's rear. Despite these new changes, the car kept its original characteristics in terms of its flagship long wheelbase and standard 20-inch wheels, also retaining its short front and rear parts and streamlined roof.
This rear-wheel drive personification of chic doesn't just deliver powerful acceleration; the interior of the BMW 730 Li offers more than ever before, starting off by greeting passengers with its Welcome Light Carpet that projects an ambient light onto the left and right sides to create an elegantly welcoming atmosphere before you even get in the car. Once inside, passengers are served with an exquisite, top-quality interior finishing that complements state-of-the-art infotainment, enabled by the BMW Live Cockpit Professional, which includes 12.3" instrument cluster and a 10.25" touchscreen CID (Central Information Display) with iDrive 7.0; that allows smart devices to connect through Apple CarPlay and featuring an internal memory of 20 GB. bringing you all you'll ever need in terms of technology and connectivity. The rear seats are also equipped with streamlined entertainment in the form of two 10-inch screens.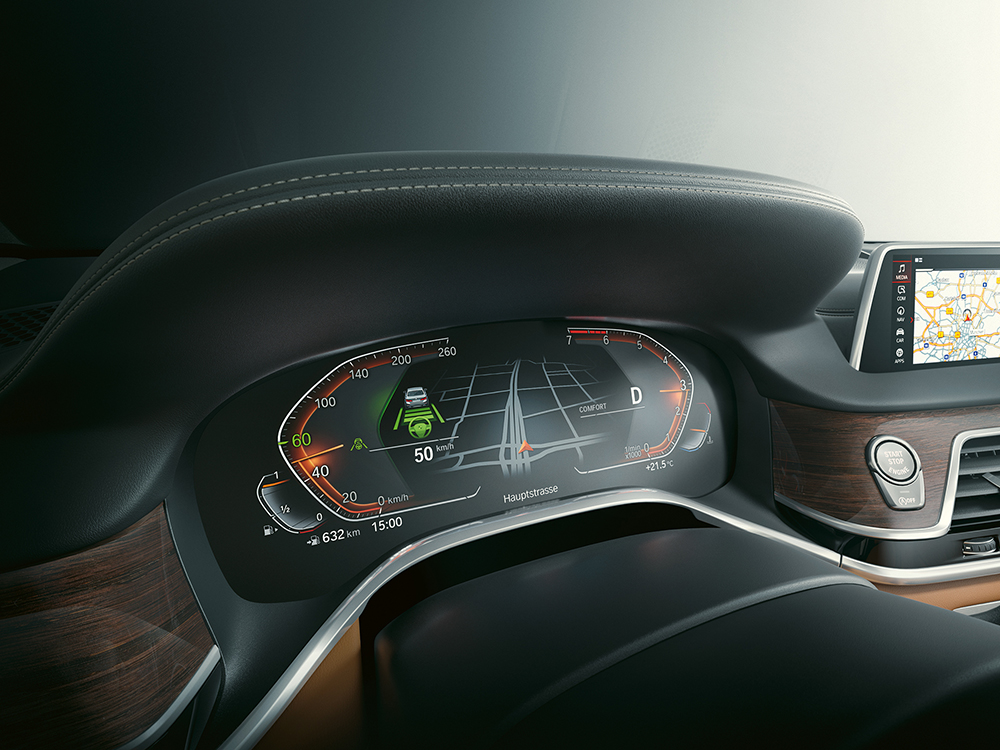 The Bowers & Wilkins Diamond Surround Sound System fitted in the BMW 730 Li offers an outstanding auditory experience like no other, allowing for perfect distribution of audio across the vehicle through its powerful 1400W digital amplifier, 16 loudspeakers that bring joy to the driver and passengers alike.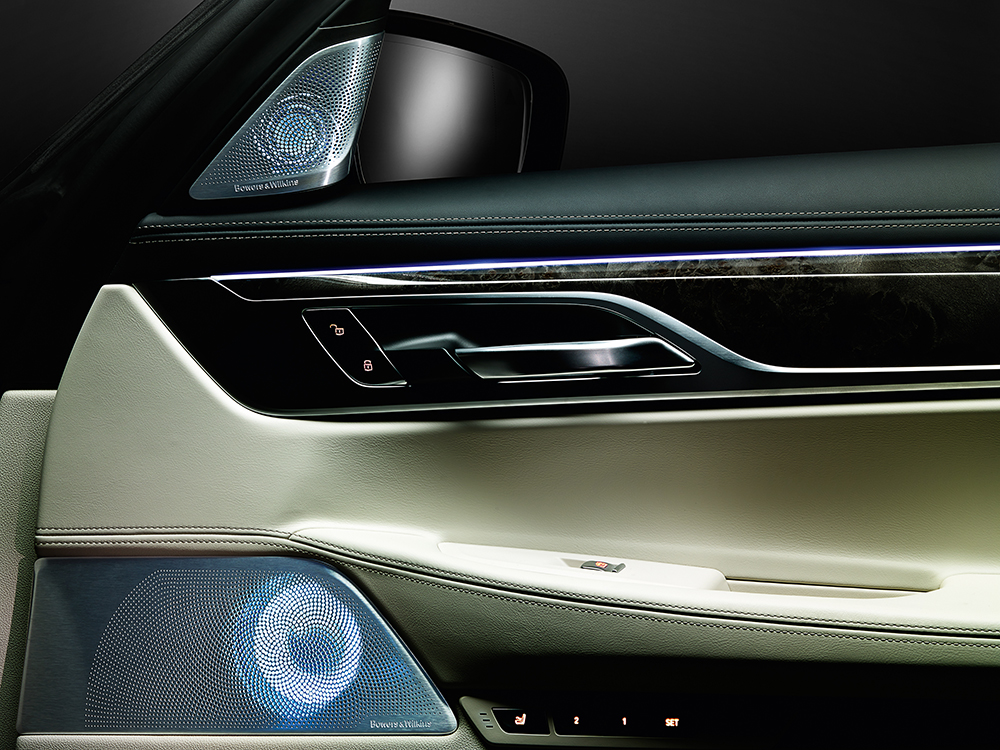 Rear-Seat Entertainment enjoys the luxury and comfort of the Nappa leather seats 10.2' touch screens with a Blu-ray player and HDMI connection.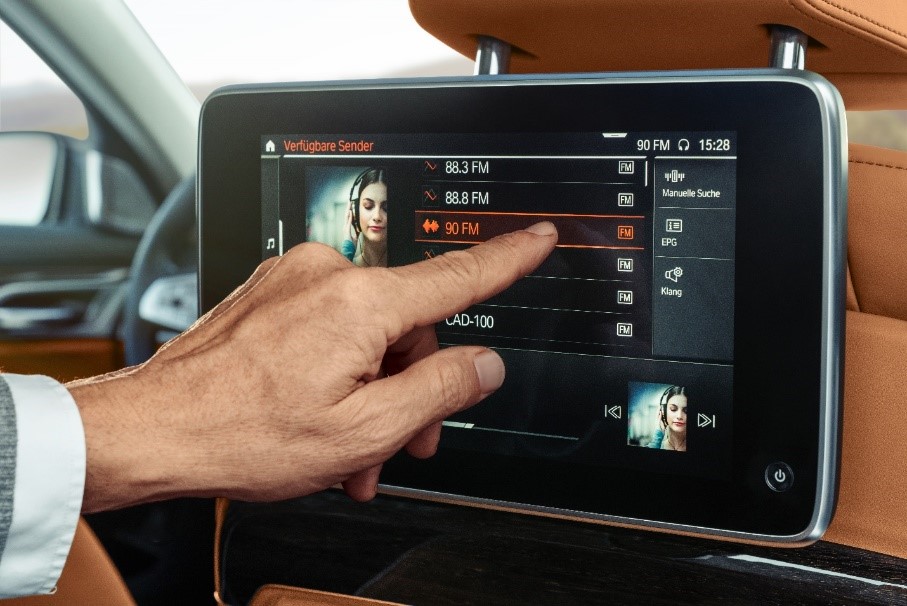 The Sky Lounge panoramic glass roof creates a spacious environment for the passengers of the BMW 730 Li, offering an astonishing upward view of the sky and a sense of freedom. Whether during the day when the sunrays shine through and illuminate the vibrant interior, or at night when this feeling is intensified through integrated LED light graphics that include more than 15,000 light element that have six interchangeable ambient colors to choose from, providing truly stellar surroundings that everyone can enjoy. If passengers are not fans of an illuminated cabin, individual curtains can be adjusted to decrease or prevent sunlight.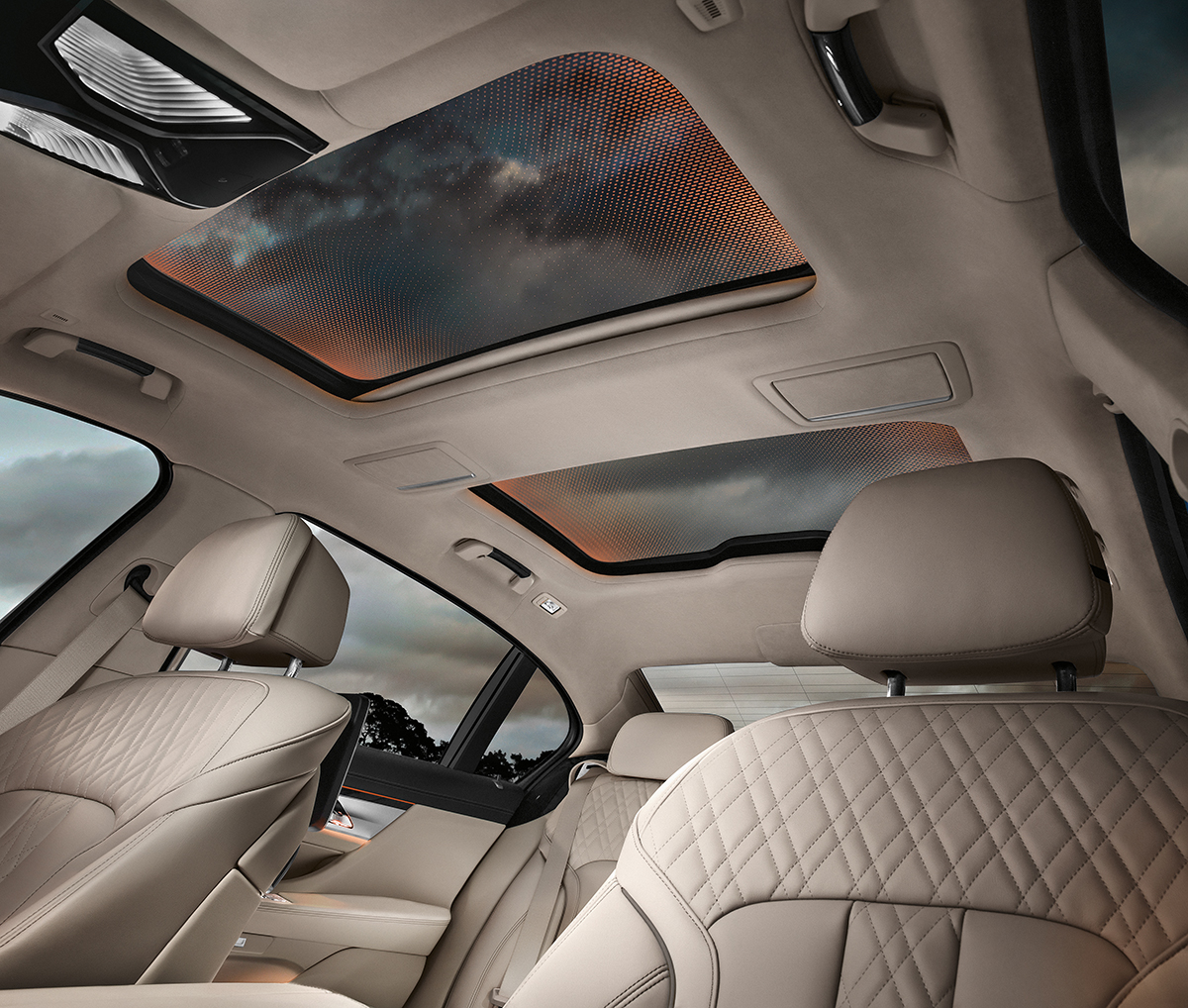 As always, security is an indispensable aspect of BMW cars, and the 730 Li contains 6 airbags that protect the whole interior. In addition to the Parking Assistant Plus that offers Rear View, Top View, Panorama View and 3D View cameras, with an optional takeover of the system on the car to park it automatically without any input from the driver. Also, BMW remote control parking helps to park the car in or out of tight parking spaces without being in the car making parking your BMW easier than ever before.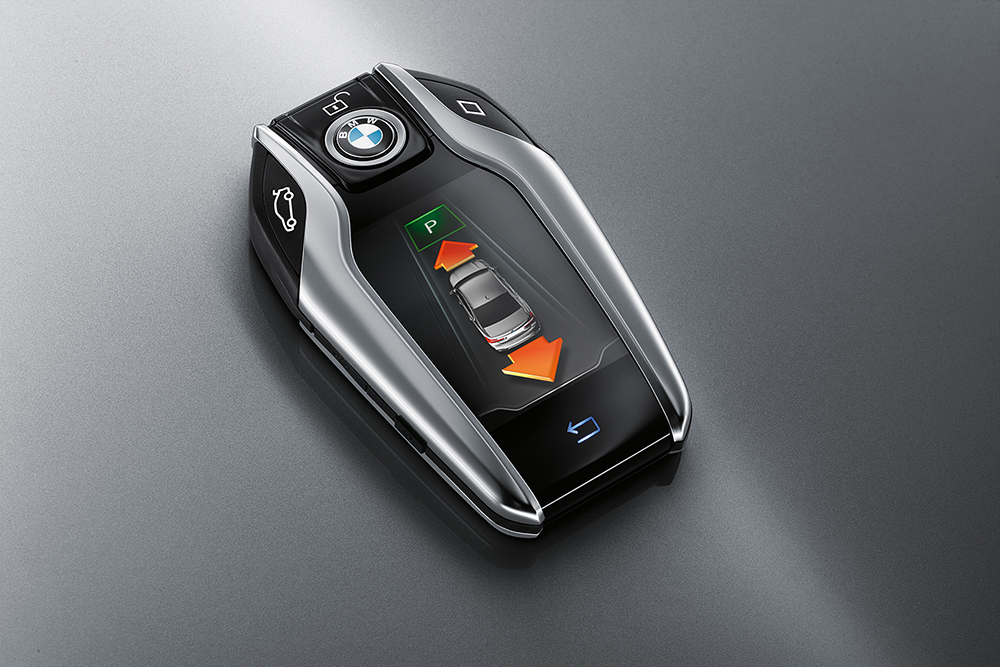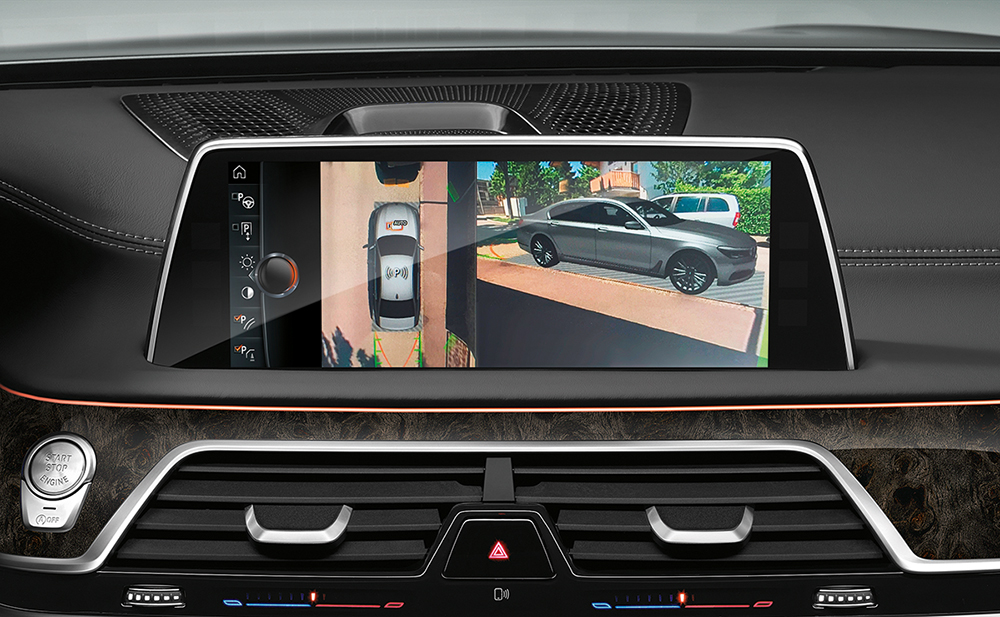 The new BMW 7 Series also grants you access to the intelligent technology through voice activation, where drivers can say "Hey BMW" if they need to find a certain location, read their email, or just need help with something that the iDrive7 can provide.
The BMW 730 Li is a unique adventure in and of itself, bringing new innovative dimensions, unparalleled comfort and furious performance to BMW's most luxurious sedan, allowing you to unlock your full potential and experience joy on every journey that life brings your way.