Art has always been an unrivaled medium when it comes to self-expression, and today the world finds itself in dire need to reconnect with its natural habitat; Earth. We sat down with Caroline Berzi, the creator of the Genesis art exhibition at Motion Art Gallery in Zamalek, Cairo, to understand what compelled her to create these unique artworks that strive to remind us of how fragile our Earth is.
As a breakthrough artist making her debut in the Egyptian art scene, can you tell us more about yourself and what compelled you to make art?
Since a teenager, I was very curious about graffiti, a movement that started in the 80's and dominated the world at the time. Its scale and vibrant colors captivated me during my travels. I used to purchase many of these books for me to enjoy and practice back home which led me to develop a love for colors and art materials.
I started off my career in Business after graduating in 2010, and kept Art as a hobby through taking different academic and non-academic art classes. After 7 years of juggling between Business and Equity-Research Banking jobs, I took a decision to pursue my passion. So, I wrote a bucket list one of which included having no more desk jobs and applying for an Art degree. In August 2018 after being unemployed for 5 months, I finally got admitted to SACI in Florence, the city of art and culture.
When I returned from Italy, I decided to share my newly found knowledge and practice into the local market with a specific concept in mind. That included artistic practices in Europe which are still lacking in Cairo, such as creating art with commonly available things like discarded materials as a way of upcycling. From there my concept developed into a series of artworks which got noticed by Motion Art Gallery.
Can you give us a brief introduction about Genesis and what the artistic community can expect to see at the exhibition?
Genesis represents the birth and rejuvenation of nature as an artistic topic, leveraged through different unique materials that provide a means to reconnect with humanity.
The artworks showcased at the exhibition combine various surfaces and mediums, with an aim to bridge communication between traditional and contemporary representation. The art itself delivers delicate forms that symbolize nature's divine fragility as womanly. I usually collect, mold and paint every single piece through a process that requires considerable collaborative and physical efforts. The discarded materials eventually become bouquet-like 3D portraits made up of hundreds of individual miniature plastic sculptures. The exhibition space is just a bliss, from the colorful artworks to the open space overlooking the Nile, everything blends just right.
Congratulations on your first solo exhibition for Genesis. How does it feel to have your artwork presented to the public at your very own exhibition?
Honestly it feels amazing, and nothing really compares to that unique feeling of showcasing your artworks after a long journey of battleship.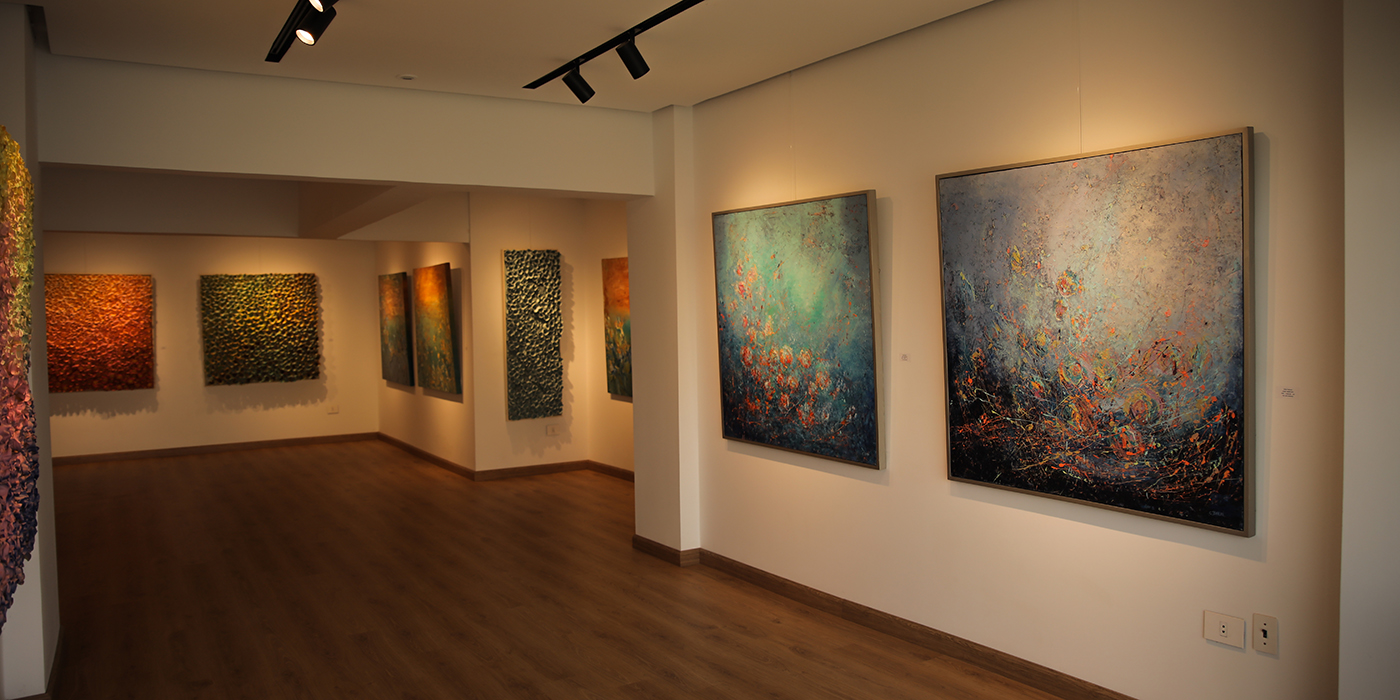 Genesis strives to embody the impact of consumerism on the environment by offering rediscovered value through redesigned materials in the form of educative art. How did this concept come to be and what was the main drive behind creating this unique experience?
The idea came to me after having returned from Italy and realizing that there were no policies in place that govern the production and sale of plastic materials in Egypt (including consumer plastics like shopping bags and similar items). I wanted to highlight the global impact of that problem on marine life and therefore on our own lives, and so I decided to take initiative and try to change behaviors to help gauge environmentally destructive issues, which I had learned in Italy. I started upcycling materials found in my studio and then went on to expand my circle to reflect my ambition of creating bigger more meaningful pieces of art.
At a time when raising awareness on health and environmental issues is critical, how do you integrate that in your art while keeping it aesthetically alluring?
I created a theme behind the notion of upcycling discarded materials that have no use but to pollute our planet. I was inspired by nature and named each artwork with a title that references the elements of the Earth. The exhibition's title Genesis is a biblical term that represents the creation of our world, a fitting name for the concept behind my art that aims to reinforce our connection to nature.
The Genesis exhibition at Motion Art Gallery in Zamalek is definitely an uplifting source of positivity for anyone during these tough times. What are your expectations for fans in regards to the impact of your art on them during the ongoing pandemic?
I expect fans to take in these artworks as food for thought and a catalyst for change, in order to realize that we are one with nature and the Earth.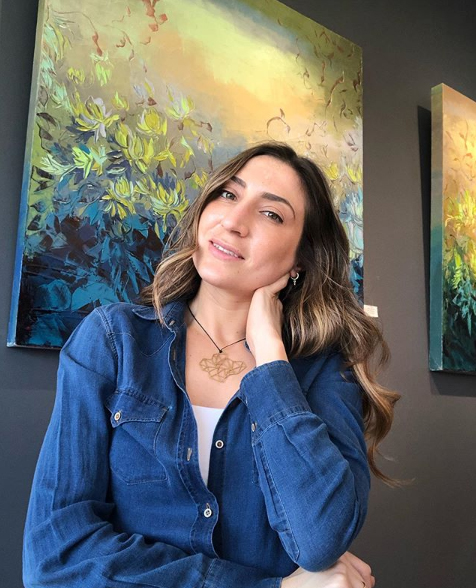 What is the historical aspect of your exceptional artwork, and how does it relate to our Ancient Egyptian heritage?
Flowers are a main recurring theme in my artwork, symbolic of the sacred Lotus flower that is a symbol of creation and birth as identified in the hieroglyphics of Ancient Egypt. In my exhibition Genesis, I upcycle and give life to discarded plastic materials through floret forms that resemble the Lotus flower. The reincarnation of these materials into art is my way of raising awareness and communicating solutions for people to realize that they can reuse non-biodegradable materials while maintaining an aesthetically pleasing atmosphere in the gallery.
Being a Business Administration graduate and having worked as a financial analyst for 7 years, how challenging was it to make the transition to becoming a full-time artist?
It was a tough decision to switch careers, and saying goodbye to my previous work was not easy as it brought mixed emotions in regards to my future. Nevertheless, it was an exciting time that drew a smile on my face because I was starting a new chapter of my life.
I stayed many long hours in my studio developing artworks that spoke to me while having a positive impact on our society. That meant creating large scale 3D artworks that could grab people's attention and could bear a strong significance while having minimal downtime as opposed to oil painting techniques. This further enabled me to work in parallel on both 3D and 2D artworks through juggling time and technique to my advantage.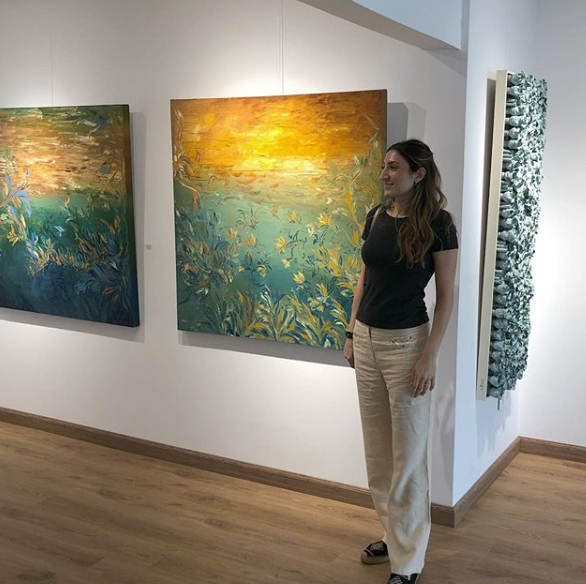 Do you have any future expansion plans for presenting your artwork in the region?
It's rare and rather unusual for artists to represent their art at reputable art fairs without a gallery. Galleries typically promote you as an artist to the community and invites you to art fairs abroad. Therefore, my goal is to establish a strong relationship with a specific gallery to act as my representative in these various regional art fairs like in Dubai, Morocco, London and many more. For now, my main focus is to add more artworks that enrich and complement this series.