Visiting Munich? Where to go and what to visit!
A trip to the idyllic Bavarian town of Munich, the home of BMW, should be on top of your list when planning a trip to Europe. It is a truly laid back and relaxing experience, ideal for family getaways or just a 48-hour city stop! The many parks and gardens seem to have brought the surrounding woods into the city.
But Munich is also ideal for great shopping and dining! Start off on Marienplatz with its imposing baroque city hall and the Galeria Kaufhaus, Munich's iconic department store. For upscale department shopping Oberpollinger on Neuhauser Strasse close to Zara, Gucci and Dior is your place offering an impressive variety of international and German brands. Looking for an authentic German atmosphere , then don't miss out on visiting Viktualienplatz, where tourists and locals enjoy traditional German food and beer, and shop for homegrown products and souvenirs. Dienerstrasse not only boasts many of the finest local and international fashion brands, but also "Dallmayr" , the famous Delicatessen, that's worth a stop for lunch or tea and take home some delicious savories. But a trip to Munich wouldn't be complete without a visit to the MCM, the famous German leather brand on Briennerstrasse. Another homegrown fashion favorite is Aigner with more gorgeous leather accessories to take back home. Boss' store on Theatinerstraße is a favorite hunting ground for especially men seeking perfectly cut suits. On Munich's most famous shopping boulevard Maximilan Strasse, you will find more of the leading international luxury brands. In need of a break from all that shopping and ready to start the evening? Then make your way to the "Hofbraeuhaus" , Munich's world famous brewery originally built in 1589 by Bavarian Duke Maximilian. Fine dining in Munich is synonymous with Atelier, the three Michelin stars restaurant specialized in creative international gastronomy on Promenadeplatz. A fashionable way to end one of just another perfect day in Munich!
The BMW Headquarters also known as the BMW Tower is a Munich landmark serving as world headquarters for the Bavarian automaker BMW since 1973. It was declared a protected historic building in 1999. The 101-metre building is located near the Olympic Village and is often cited as one of the most notable examples of architecture in Munich. The tower's exterior mimics the shape of four cylinders in a car engine, with the museum representing a cylinder head.
Smart suits by Boss fw'19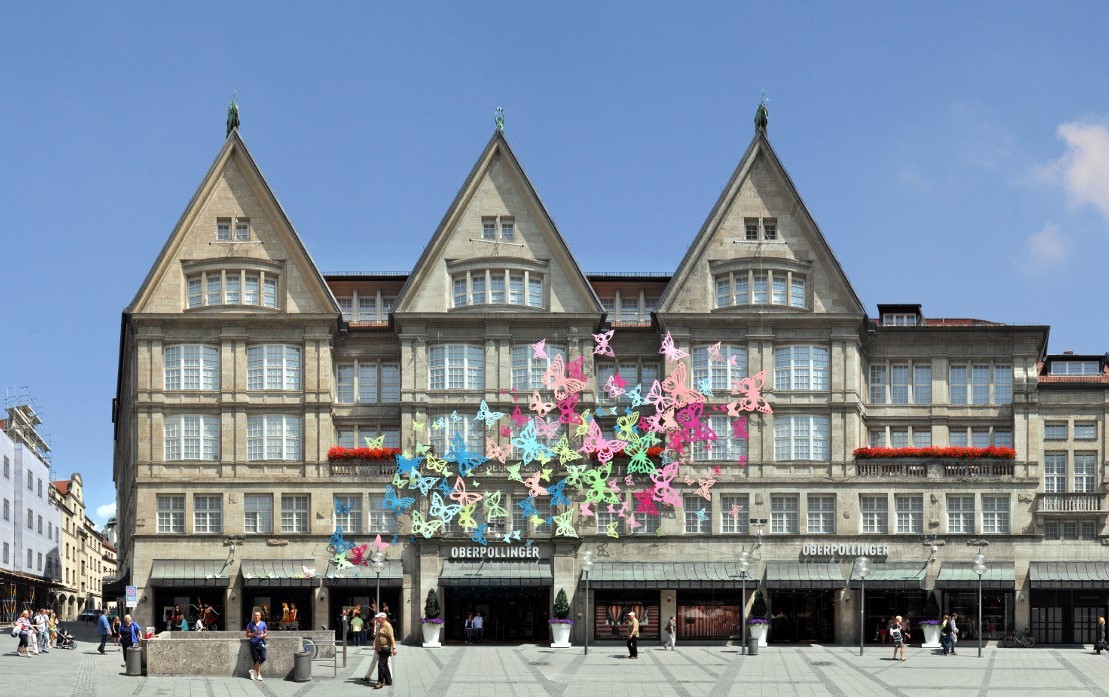 The splendid facade of Oberpollinger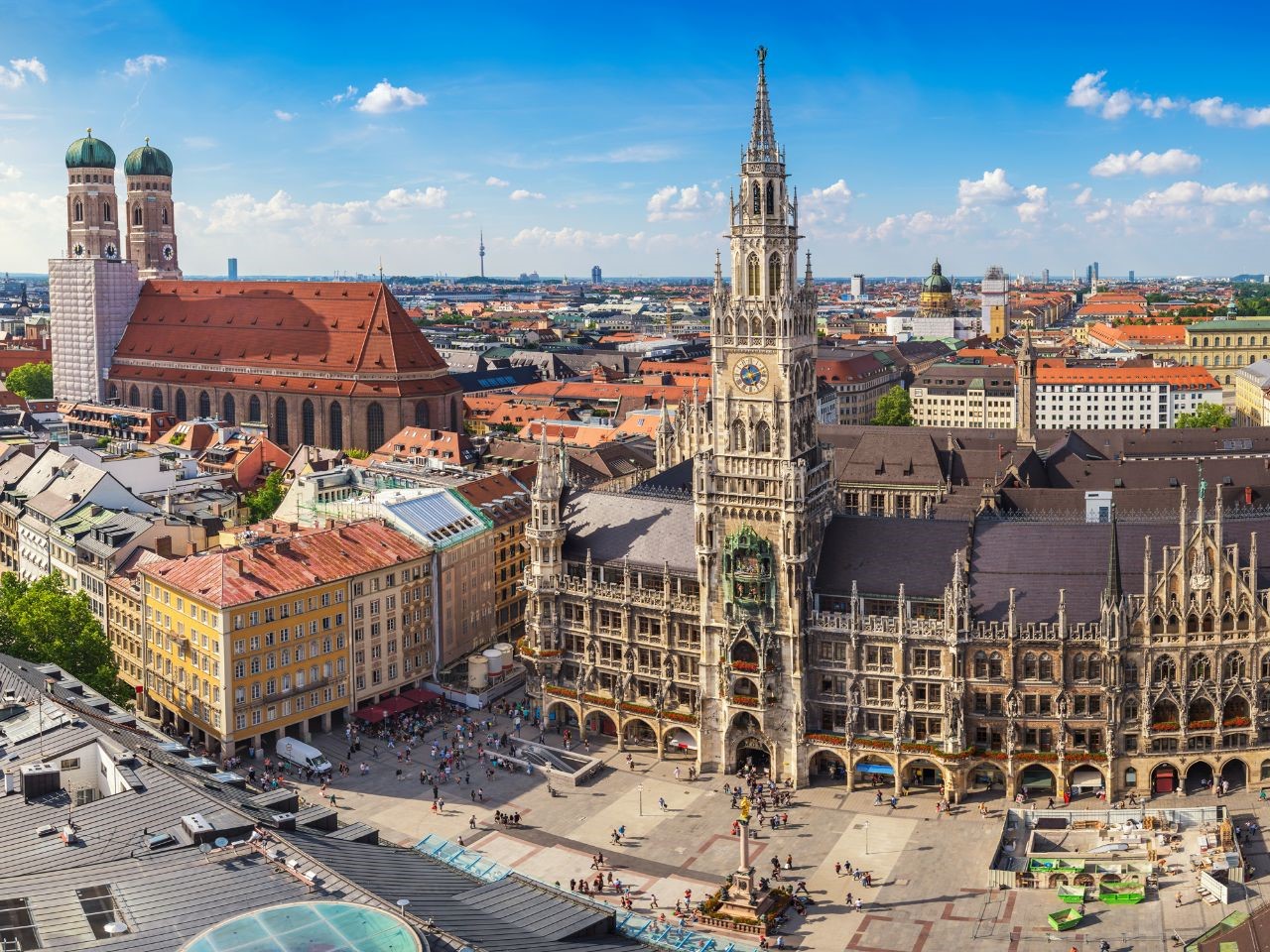 Munich's famous Marienplatz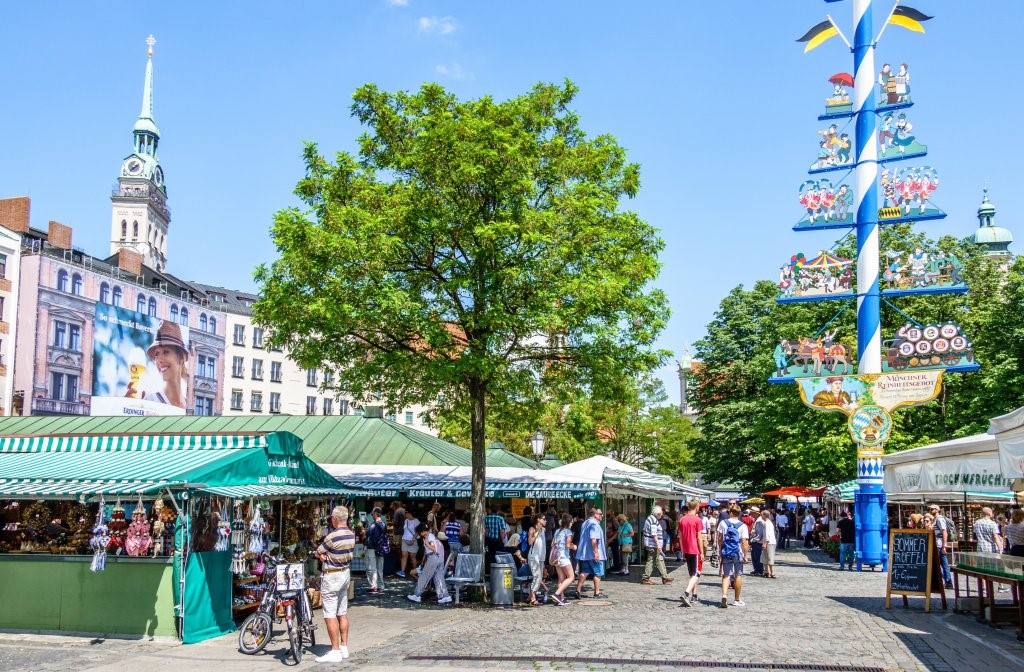 A view of Viktualienplatz