Pictures of glamorous outfits of the Gouna Film Festival 2018, that took place a month ago, were virally posted on social media channels bringing a general state of awe to the public, as one of the most certainly eye catching outfits worn by a young Egyptian actress revealed a message to be delivered to fans. Sara Abd El Rahman wore a top made out of 30 up-cycled plastic bags, tailored by the hands of women from "Roh El Shabab" NGO at Manshyet Naser, and designed by one of the promising fashion designers in Egypt, Esmeralda Radwan; in collaboration with Up-fuse company, sponsoring the elaborate idea for a noteworthy cause.
We had a little chit chat with Esmeralda Radwan, to know more about her work, passion in fashion and why she participated in delivering such a "GREEN" message in one of the most successful annual events in Egypt.
1. Tell us more about you as a fashion designer, when did you start out and how?
I always dreamt of becoming a fashion designer, I grew up watching my grandmother creating wonderful masterpiece designs, but she never used this talent in business. Seeing that there weren't any fashion schools in Egypt, I decided to go to an old seamstress to teach me the technicality of pattern making so I can go wild with implementing what I had all along in my imagination. I decided to join the faculty of Applied Arts to learn design perspective, as I already understand the technicality behind the process. My vision was to truly merge them together. By 2012, I traveled to Berlin, and started my pre-master's degree with a focus on implementing research on fashion in Egyptian culture; starting from Upper Egypt all the way to the North, East and West. After months of dedicated study, I got inspired from the countryside in Upper Egypt called "Asyut". The housewives there use a mesh like material and embroidered metal pieces with shapes. I took this material and traveled back to Berlin to create my own designs and started my own depiction of Egyptian inspired haute couture, stating in my art that we were once were trend setters. By 2014 I was ready to launch my fashion brand after long years of study and research with a complete collection, inspired by Upper Egypt for Spring/Summer '15 and had earned great success; that's how my story began.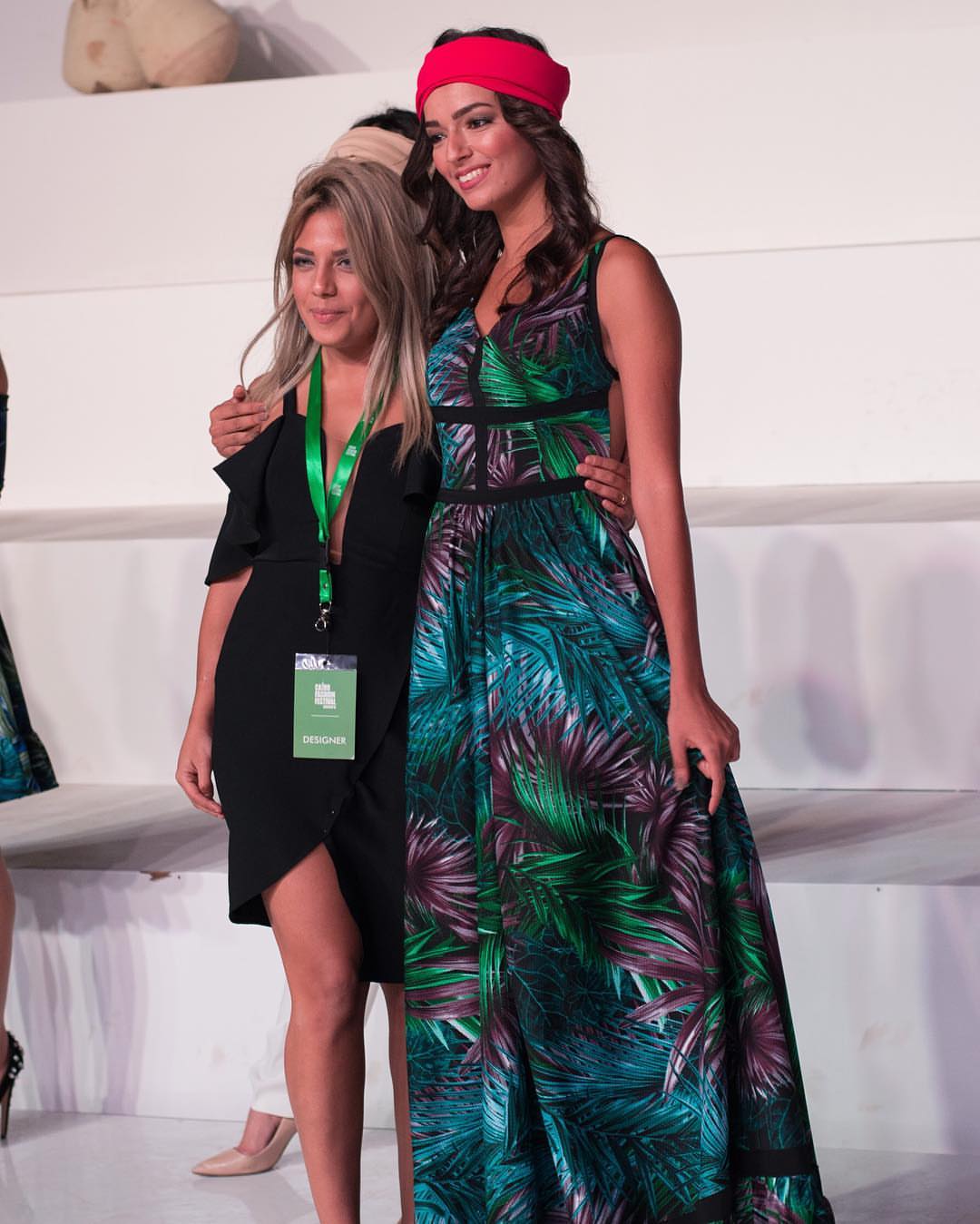 2- What lines of fashion do you exactly produce in your company?
We mainly produce ready to wear clothes, and we tailor special haute couture orders for select clients. But I do believe that a fashion designer can come up with any design in any line.
3- The idea of Up-fuse is outstanding on all levels! What has driven you to deal with them in designing the outfit of the young promising actress Sarah Abd ElRahman on Gouna's Film Festival red carpet?
Up-fuse is owned by Yara Yassin and Rania Kamel, both of which are my colleagues and best friends from university, this was also their graduation project as well. They used plastic waste bags and started transforming them into product designs (Bags - handbags – Wallets and etc...). They have been in the market for more than 5 years now, distributing products in the local market and exporting them. I am always open to express my creativity, so when they contacted me to inform me about the young actress Sara Abd El Rahman, I was excited to showcase and raise public awareness in the place where we can get most exposure. I immediately started working on the design process and have overcome many challenges in order to bring the outfit to a flawless finish, as much as the outfit looked stunning, as much as the material was so challenging to manipulate, as 60x40 sheets were very hard to tailor through, seeing that the material was as rough as cardboard.
4- Egypt manufactures 12 billion plastic bags annually where only 1-5% gets recycled. How do you think the government can encourage all industries to start recycling?
I think the government can do so by raising this issue through public figures and influencers, as well as spreading recycling bins so that Egyptians start having the needed awareness about the issue, moreover using commercials, ads and the magic of media.
5- In Up-fuse, they recycle plastic for designing bags and many other things, do you think you can make a line for a Green or nature-friendly purpose?
I thought about it and am actually open to that idea, but it's still however in the process of research. In time, I believe I'll be able to consider the possibility and whether or not it's sustainably feasible. .
6- How did Sarah Abd El Rahman pick you to design that special outfit?
I was nominated among different designers, but she picked me as she saw great potential in my lines and designs; she wanted a certain essence of innovation in her designer, rather than a design impression..
7- Who is the fashion designer whom you look up to internationally and on the Arab level?
I look up to Balmain, Versace and Raplh & Russo. On the Arab level I admire a lot, namely: Elie Saab, Rami kadi, and George Hobeika..
8- Have any celebrities wore from Esmeralda before? And who is the celebrity that you dream about wearing your brand?
Yes , Tara Emad, Sara Abdel Rahman, Miral Mahlian, Kholoud ezz, Fatma hassan, Farah Galal ( Influencer ),and Mirvat Ghandour wore from Esmeralda; I dream that Beyonce, Jennifer lopez, Eva langoria or Sofia Vergara will one day wear one of my designs.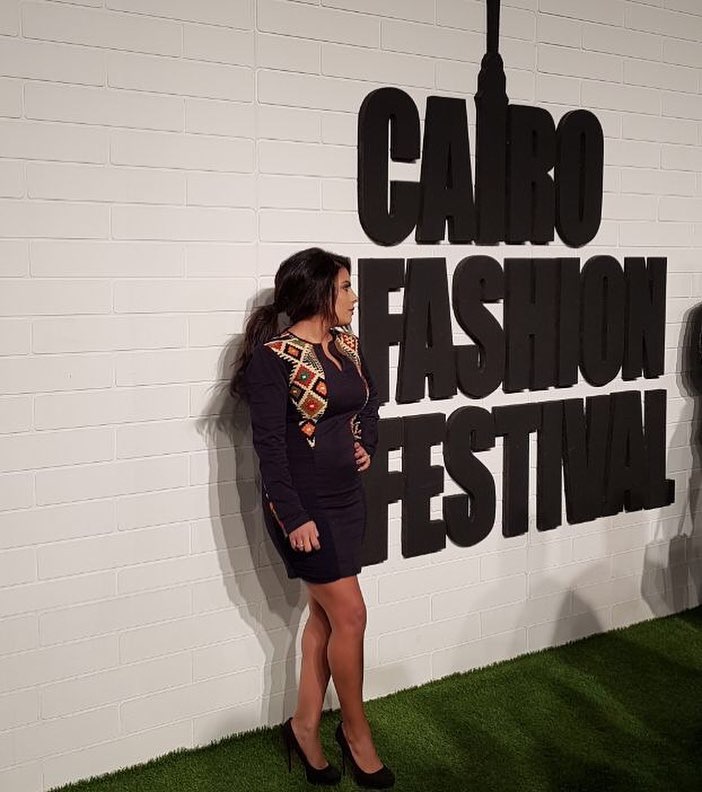 9- What are your future plans and dreams for Esmeralda?
My plan is to follow my dream to integrate Egypt's identity of fashion through its culture, as this country is still full and rich of unrevealed sides of heritage..
I dream to become an international trend setter like Tom Ford or Balmain, by introducing new ideas to the market and to find myself on the same level with top designers and trend setters around the world..