Egypt's Ancient Pharaonic heritage is being revived by the Egyptian female designer Shaima Kamal, turning historical icons into contemporary designs, and dazzling the world.
We had a valuable interview with Shosha Kamal, who won the International Product Design Award in 2016 and many other international prizes thanks to her unique designs which carry that Pharaonic charming signature.
Tell us about your exceptional talent, how it originated and also tell us about your education?
I started my career as a Marketer in Unilever, one of the world's biggest FMCGs. I enjoyed my job so much but I always felt there's something missing. A couple of years later, while I was on a vacation in Rome, I learned that their new city center is being designed by the famous architect ZahaHadid, and as I had a passion for design since I was very young, this incident made me question my current job, and if I'm in the right place in life. As soon as I arrived back to Cairo, I decided to quit my job. Months later I flew back to the capital of Design, Italy! I lived in Florence for a while and studied Interior and Furniture Design, and came back to Cairo to start my own Design business.
When did you build your company: Shosha Kamal Design House?
Shosha Kamal Design House was founded in 2013, as an art, design, and culture studio based in Cairo Egypt. Serving the World with an ultimate aim to create and spread beauty. We work in the fields of Interior Design, Product Design, Public Design, and Fundraising Design.
What are the precious prizes that you have won throughout your career? And for which designs?
International Awards for me are the accreditation that my designs get. To date I have been awarded 3 times from Milano and 3 times from London on different projects from Interior Design, to Public Design, to Product Design.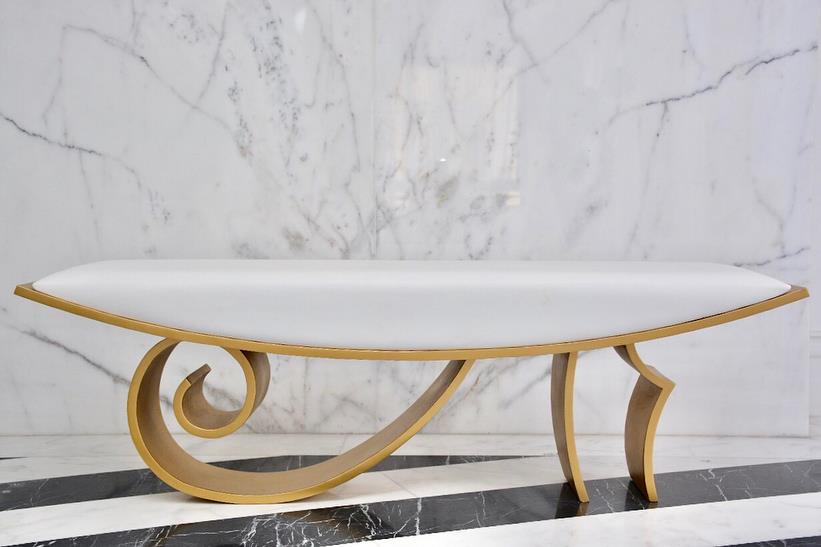 How the idea of designing depending on the Pharaonic History was first placed?
4000 years ago, ancient Egyptians created the science of Product Design. They excelled at designing everything and specifically furniture. However this great art was born and buried with their golden age. Until today there are almost no attempts to develop that great heritage of Art and Design. Since the beginning of my career in Design, I promised myself I would revive the Egyptian art and heritage in every project I get to design.
And how that concept developed till you see the Wing Sofa shining brightly at the great Luxor Temple?
In 2015, I was commissioned to design an apartment for an English client in Harrod's London. And since Harrod's has an Egyptian identity, which was the design style I wanted to proceed with regarding the interiors. Unfortunately I couldn't find any relevant furniture in the design market to add to my interior, and that's when I decided to design my own! And that's how my one and only, Wing Sofa was born.
And what was the feeling you had when you saw that scene?
Having my furniture featured at the Luxor Temple was part of a TV commercial featuring the successful Egyptian youth. When they briefed me about the advertisement and their vision for the shooting to take place at the legendary Luxor Temple, I instantly agreed! This is where the world's art was born, and this is where I get all my inspiration. It's an indescribable honor to see my furniture pieces shining there and blessed by our ancestors.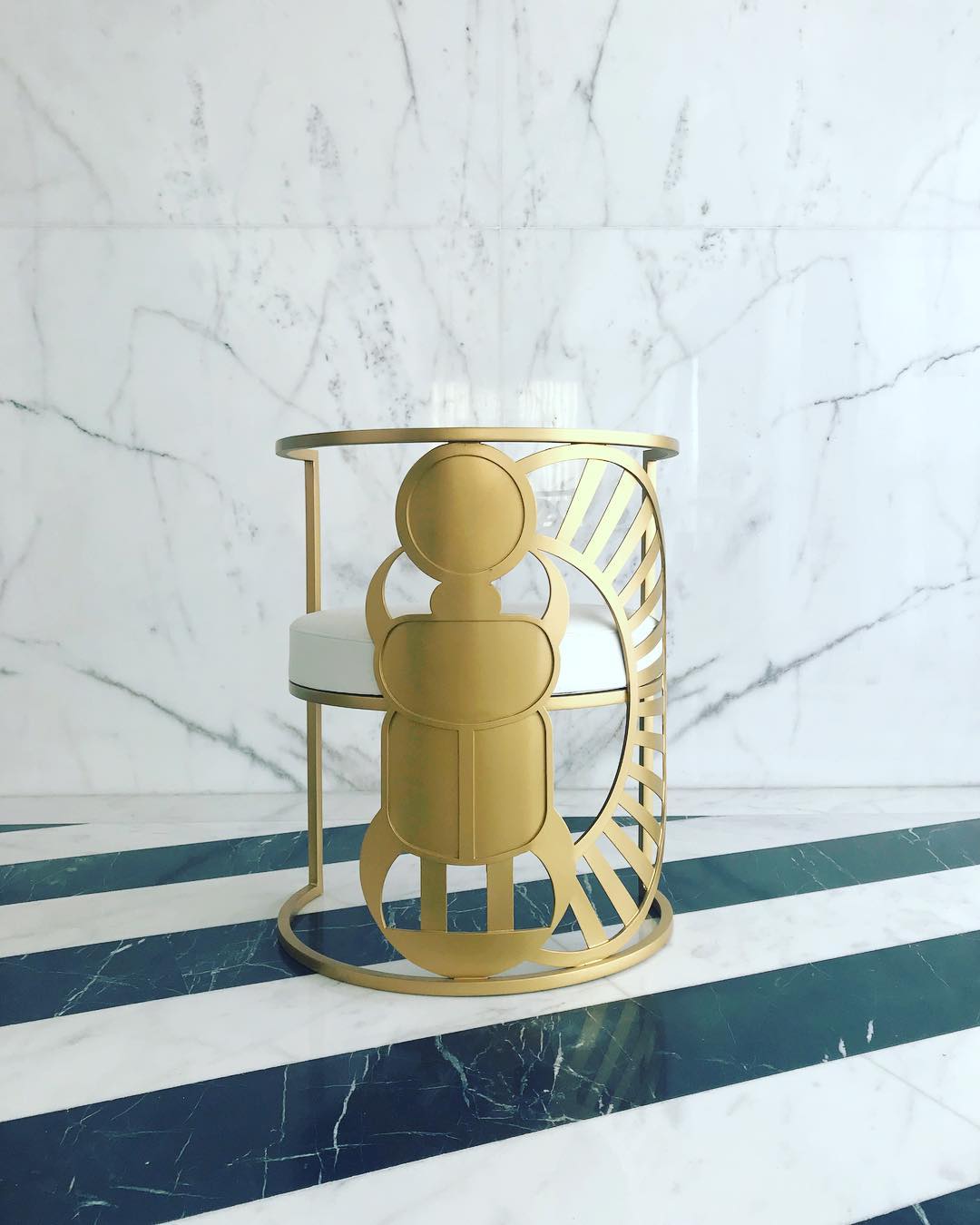 What are the most challenges you've been facing along your design career and till now?
As the famous French painter Henri Matisse once said, "Creativity takes Courage". To be creative in this world you really need a great deal of courage and self-confidence. People tend to resist whatever is new and whatever they're not familiar with. And as I promised myself I would never design something that doesn't add value to the world, this is one of the biggest challenges I face on daily basis.
The designs of your company, are they made with Egyptian hands?
Inspired by legendary ancient Egyptian art, Designed by exceptionally creative Egyptian minds, Manufactured by the finest Egyptian hands, to add beauty to humanity.
What else are you looking forward to achieve?
In design the world is well aware of many design styles, as the French, British or Moroccan to name the few. My ultimate vision is to revive the Ancient Egyptian Design Style, creating the first of its kind, Contemporary Egyptian Design Style. I dream that one day we can see Egyptian inspired products in every industry, starting from furniture tableware and passing through fashion.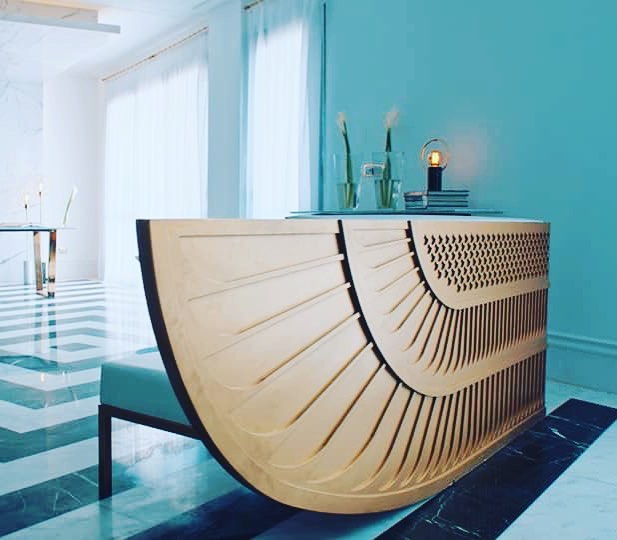 Can you give some advice to the youth who are working hard to achieve their goals?
They say there's no single recipe for success, but I think there is! If you add a lot of passion, to the ability to dream, add some persistence to reach that dream, add more persistence, and finally add some hard work! I promise success will follow no matter how late it is.
Finally, the design career that you've picked to go through, what did it add to your life?
As I always say, Design is a Spiritual Experience. It taught me to find inspiration in literally everything around me, even in garbage piles and the chaotic geometrical folds you can notice in there. I believe beauty is everywhere, you just need to wear the proper lens to be able to see it.