The BMW Group has ended 2017 with an impressive milestone by delivering more than 100,000 electrified vehicles to customers worldwide.
As a way for celebration, an eye-catching light installation marked this milestone on the road to the mobility of the future, with the BMW Group headquarters, the world-famous "Four-Cylinder" in Munich, transformed into a battery. The BMW Group selected this glowing symbol to represent the technological change, taking place in mobility.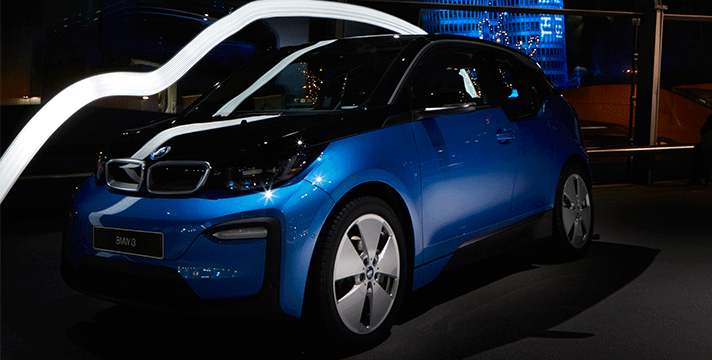 "We deliver on our promises," said Harald Krüger, Chairman of the Board of Management of BMW AG. "This 99-metre-high signal is lighting the way into the era of electro-mobility. Selling 100,000 electrified cars in one year is an important milestone, but this is just the beginning for us. Since the introduction of the BMW i3 2013, we've delivered over 200,000 electrified cars to our customers and by 2025, we will offer 25 electrified models to our customers. Our early focus on electro-mobility has made this success possible – and electro-mobility will continue to be my measure for our future success."
Flexible electrification across all model series
Electro-mobility is an essential element of the NUMBER ONE > NEXT corporate strategy, which continues to expand the BMW Group's position as the leading provider of individual premium mobility and mobility services. For its BMWi electric brand, which was founded in 2011, the company has already secured the naming rights from BMW i1 to i9, as well as from BMW iX1 to iX9. This year will see the launch of the BMW i8 Roadster, followed in 2019 by a fully electric MINI; in 2020, by the electric version of the BMW X3 and in 2021 by the brand's new technology flagship, the BMW iNext, which will combine electro-mobility with autonomous driving and new interior connectivity options for the first time in a series-production model.
BMW electric Models High Demand in Europe
Electrified models are in especially high demand in Western Europe and the USA, for example, where they account for seven per cent of total BMW brand sales in both markets. Sales of the all-electric BMW i3 also increased by around a quarter.
A Surprise for the 100,000th electrified BMW car buyer
One of these many customers worldwide experienced a special surprise: An 80-year-old driver from the North Rhine-Westphalia region of Germany collected his BMW i3 in Protonic Blue at BMW Welt in Munich, making him the 100,000th customer worldwide to choose an electrified BMW Group vehicle this year. Harald Krüger, Chairman of the BMW AG Board of Management, welcomed him to the BMW Welt and personally handed over the keys to the new car, commenting, "The excitement connected to electro-mobility is felt by all generations and handing over the 100,000th electrified car we've brought to the streets this year is a very special moment for me."