Did you know The dangers and impacts of counterfeit products

Increased safety risk.
Counterfeit parts are not subject to the BMW Group's high quality standards. This can hugely impair the function and safety of your vehicle, which in a worst-case scenario could result in an accident.
Reduced service life.
Counterfeit products can lead to premature wear-and tear of your engine and vehicle, resulting in an increased repair and maintenance costs as well as a reduction in the vehicle's service life.
Less driving pleasure.
Counterfeit parts usually are not developed and tested in functional interaction with the respective model and therefore, these counterfeit parts do not support the driving dynamics and safety of your vehicle in the same way a genuine product will.
Negative impact on the environment and the economy.
The production of Genuine BMW Group products is subject to high environmental standards, profit is reinvested into our research and development centre to grow the workforce and local economies. This does not apply to counterfeit products. Moreover, for every counterfeit part jobs are put at risk which negatively impacts the economy.
Warranty and Liability Claims.
The warranty and liability claims for the vehicle may no longer apply if damage is caused by a counterfeit partacross
Accept nothing less.

Genuine BMW Group Parts and Accessories adhere to stringent quality and environmental testing and are the result of intense research and development. With a genuine product, BMW Group customers can legitimately rely on the highest quality standards. Counterfeit products may have a huge negative impact on the safety of an automobile, not only causing wear-and-tear and damage but also accidents, as shown in the examples below.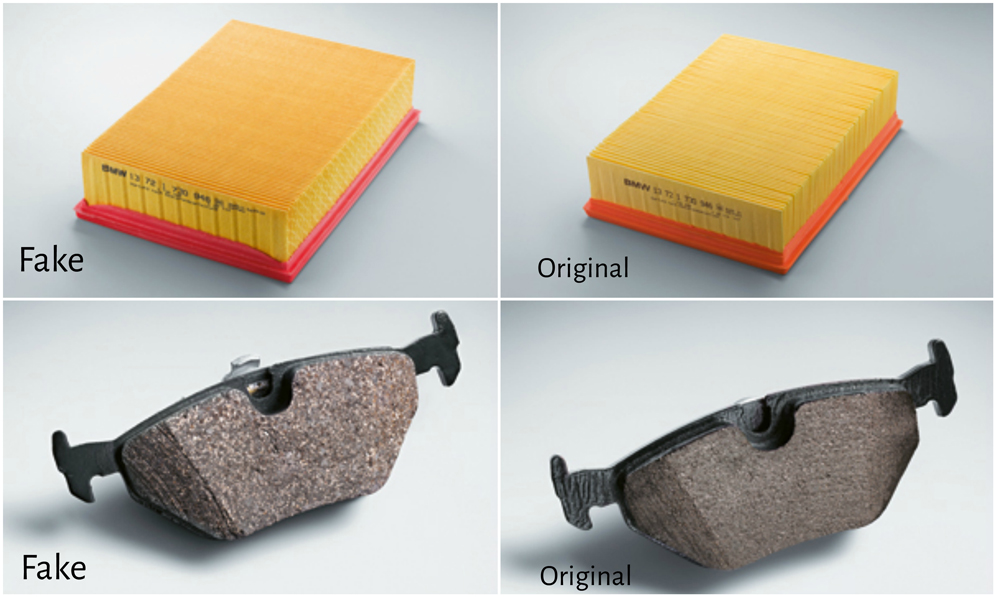 Be on the safe side.

Product counterfeiters are highly inventive in making counterfeit products look like the original. For this reason, consult your BMW or MINI Authorised supplier for advice. If you come across a suspicious product, share your observations and help contain product piracy: www.bmwgroup.com/brandprotection